That Mazda6 new car smell
MINE! MINE! ALL MINE!! Well...mine and the bank's, anyway.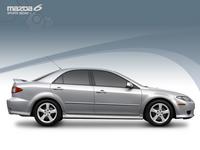 Yes, mine looks just like this. It rocks. Also thought I'd share that I bought this car from Will Smith. I bought my truck from Michael Jordan. Wonder who's next? Kinda hoping it's Hale Berry. You know I just loves the mochachino.